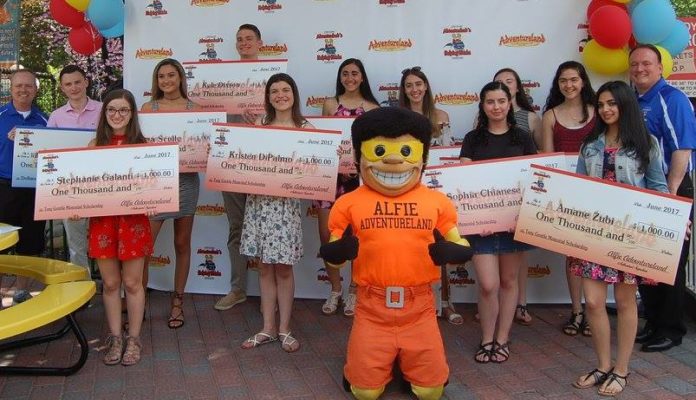 For Jeanine Gentile and the staff she works with at Adventureland Amusement Park, the rides and food are just a part of what makes Long Island's favorite family destination so special.
The park's owners founded the nonprofit Helping Hands Foundation in 2013 as a way for the Adventureland team to give back to their patrons, have communities come together, and have LI reach its full potential.
Jeanine has been working full time at Adventureland for more than 10 years, but the Gentile name was present in the theme park long before her arrival. Her grandfather, Tony, purchased the park in 1987, and spent more than 25 years making improvements to not only Adventureland, but to the entire Island.
"He [Tony] was a loving and caring individual," says Jeanine of her late grandfather, "It was his love for the people who came in and enjoyed our park that made us want to name our scholarship after him."
The Tony Gentile Memorial Scholarship started out by providing five students with $1,000 scholarships in 2013, and is now able to award a cumulative $40,000 worth of college tuition.  As impressive as that six-year growth is, the scholarship is only a piece in the charitable puzzle.
Some other upcoming events include the Back to School supply drive, taking place on Friday, August 16. The event corresponds with National Roller Coaster Day, and those who donate new school supplies will be rewarded with a free ride on two of the park's best rides.
September 6 will be the biggest event of the calendar year, the V.I.P. Friends & Family Fundraiser, where unlimited food and rides will be available for those helping the foundation to reach their goal of $200,000 for the Tony Gentile Memorial Scholarship.
"I love all the events we do," says Jeanine. "But when we partner with the Ronald McDonald House for our Toy Delivery Day, and get to physically see the faces of the families we're helping, it makes it all worth it."
For more information, visit helpinghandsli.org or call 631-694-6868.